Taking his first yoga class in 1980, Rodney Yee is now one of the most recognized yoga teachers in the world and is considered a pioneer of yoga in the United States.
Rodney practices and teaches yoga to bring philosophy into action and to unveil the natural beauty of our spirits. He loves the ability of yoga to cleanse the mind and body which allows for presence of being. With his wife Colleen Saidman, Yee developed the Gaia Yoga Studio, designed to make a yoga home practice accessible to a wide audience.
Relying strongly on his own practice and intuition to influence his teaching, Rodney Yee has been curious about the mind and body for as long as he can remember. He was a gymnast, a ballet dancer with the Oakland Ballet Company and the Matsuyama Ballet Company of Tokyo, and a philosophy and physical therapy major at the University of California Davis and Berkeley.
Having created and appearing in over 30 video titles and numerous audio recordings produced by Gaia, Rodney Yee has been featured on The Oprah Winfrey Show, CNN and PBS, and his instructional programs are often among the top 10 fitness programs in the US. Yee leads workshops and teacher trainings around the world and serves as a co-chair of the Urban Zen Health and Wellness Initiative, a foundation dedicated to bringing yoga, massage and holistic therapies to hospitals around the nation.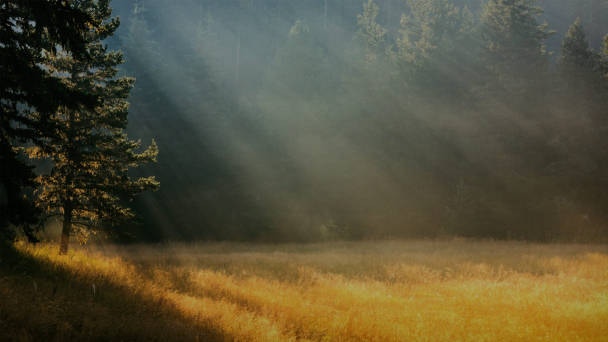 Rodney Yee
Yoga Teacher Clearing: Audio Meditation
An invitation to reconnect with yourself after teaching yoga. To begin, stand (or imagine standing) to feel the balance of upward and downward energy in your system. Then sit against a wall or in a chair to notice your breath and feel alive, grateful, and loving.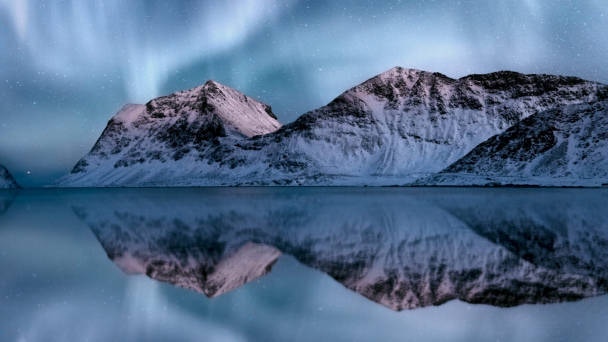 Rodney Yee
Mental Clarity: Audio Meditation
Draw awareness to your gaze, the rhythm of your breath, and a grounded connection to the earth for this meditation to find clarity in the present moment.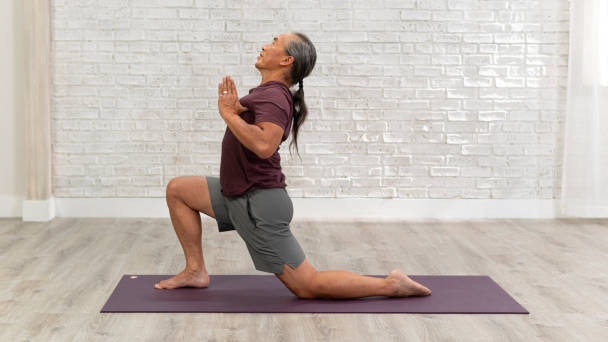 Rodney Yee
Align Your Upper Body
An accessible practice to find gentle movement, strength, and openness for optimal alignment in the chest, shoulders, and neck. Includes some lunges for a great posture reset anytime.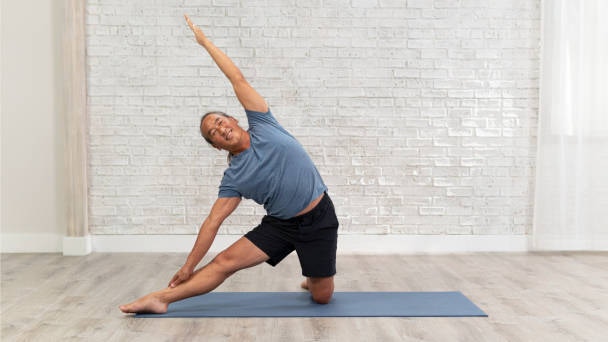 Rodney Yee
Rhythm of the Shoulders
Explore the full range of motion in the shoulders throughout this exploratory practice. Discover freedom in this area of the body through rhythm, strength and coordination.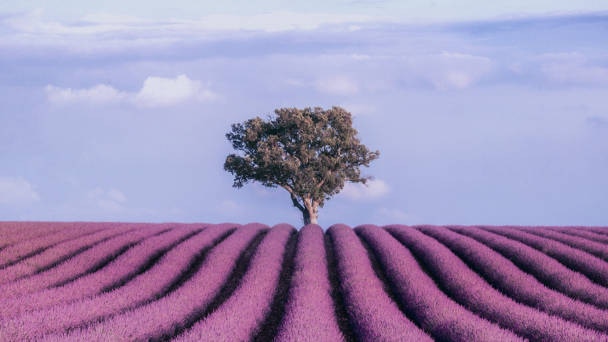 Rodney Yee
Integration of Contentment: Audio Meditation
Explore the personal observance of santosha (contentment) in this guided meditation. Notice tension in the body and breath, while lying on your back, to consider where you can let go into contentment.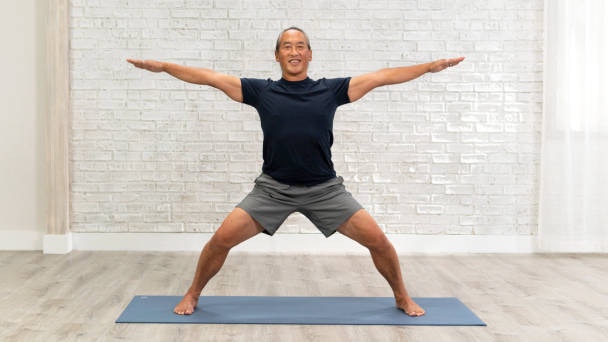 Rodney Yee
Recharge Your Batteries
Connect to the earth and the sun to build balanced, whole-body energy. Move through a variety of shapes and movements including strong standing poses, fluid hip stretches, twists, and flowing sun salutations.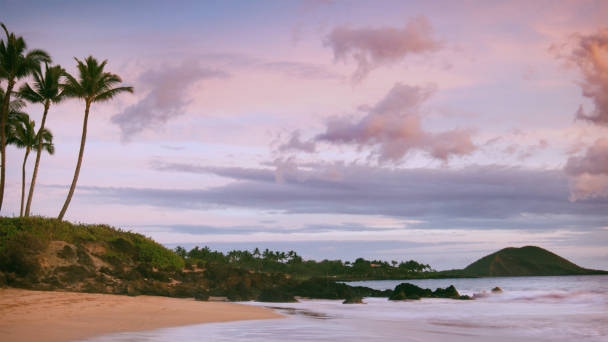 Rodney Yee
The Rhythm of Concentration: Audio Meditation
Hone your awareness to build concentration. This guided meditation rotates awareness through the body and breath, attuning to the musical rhythm in search of relaxation.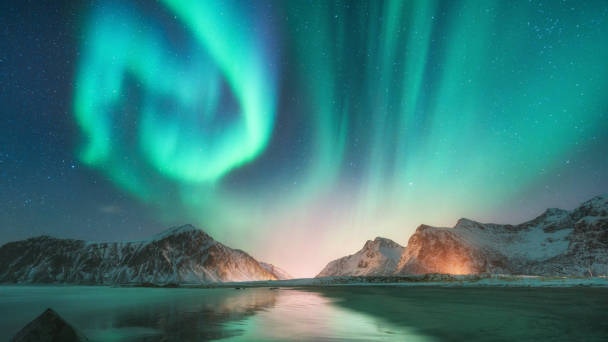 Rodney Yee
Receiving Prosperity: Audio Meditation
Receive the abundance of life through your entire body with this guided audio meditation. Shed resistance of the present moment to get out of your own way in receiving prosperity. Includes an invitation to move your hands to different parts of your body throughout the meditation.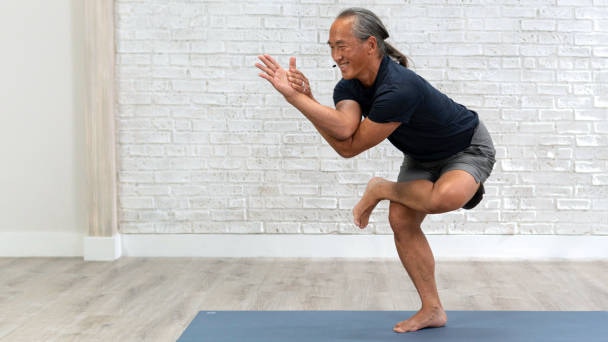 Rodney Yee
Release Your Hips
Relax any binding in the hips with this gentle movement practice. Start on the ground and make your way up to standing balance poses to explore and find space in the muscles around your hips.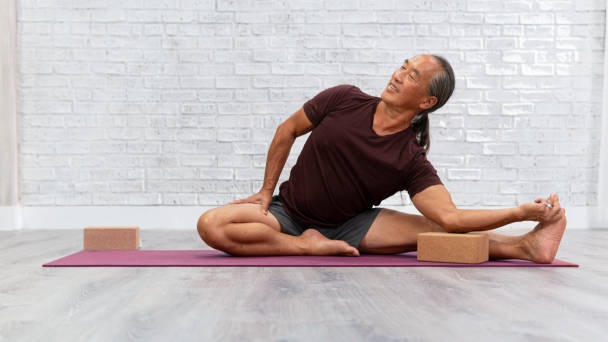 Rodney Yee
Vibrant Prana
Lean into the natural, vital vibration of the body and breath. This practice includes a combination of flowing movements and long holds to feel the springy, celebratory nature that exists in each of us.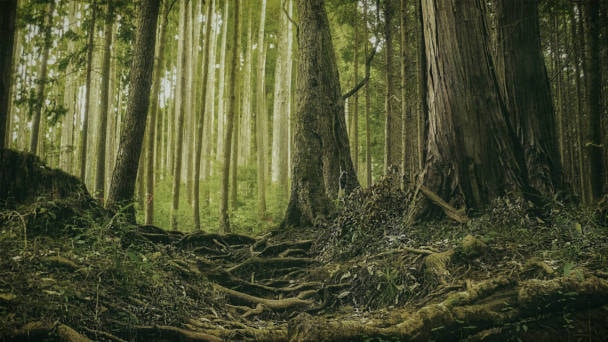 Rodney Yee
Contentment in Solitude: Audio Meditation
Observe the line between aloneness and loneliness by viewing the present moment in detail. Receive your inherent wholeness, observe your senses, and feel the interconnectedness of your being and the abundant natural world.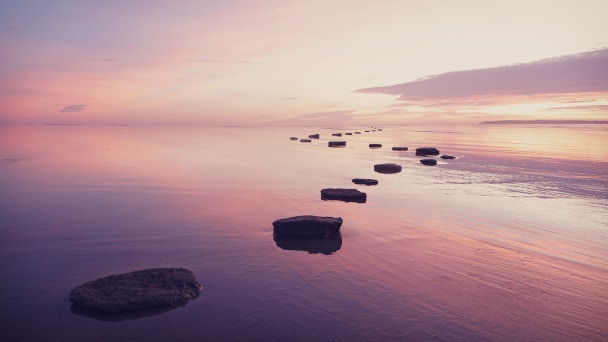 Rodney Yee
Soften the Grip of Grief: Audio Meditation
A grounding, nurturing guided audio meditation to navitage the grief of loss. Set up however feels best for you right now - lying down, seated, curled up in bed - and find restoration with this calming meditation focused on presence, softness, and breath.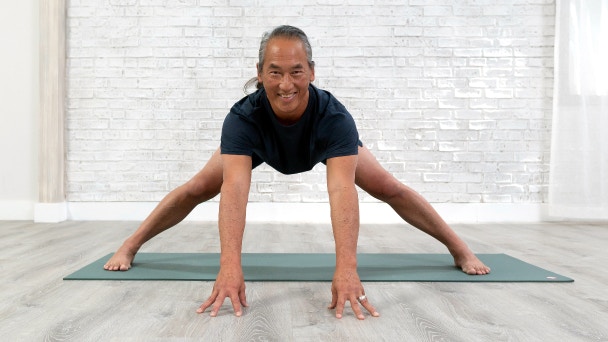 Rodney Yee
Grounded and Light
Invite ease and lightness into days that feel heavy or stressful. Feel your emotions and let them flow through you with this steady practice full of grounded standing poses.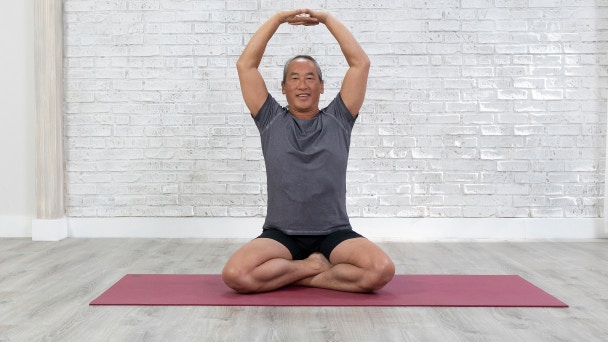 Rodney Yee
Tech Break for Wrists
Take a break from your computer with a gentle practice to release tension in the hands and wrists. Begin seated in a chair or on the ground for shoulder movements, then come to standing sun salutations, and back down to the ground for plank pose, kneeling movements, and close with seated mudras (hand gestures).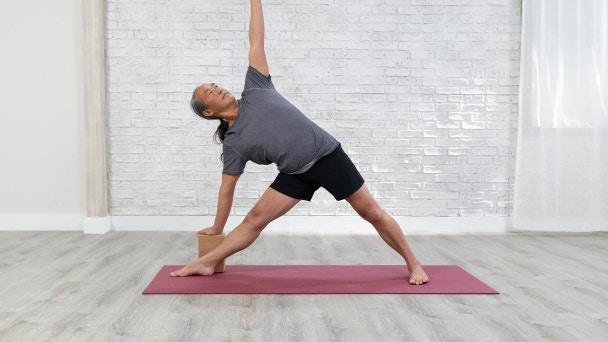 Rodney Yee
Mid-Day Unwind and Energize
A mid-day refresh to release tension throughout your body and re-energize your workday. Begin lying down with leg and hip stretches, and release tension in the head, neck, and shoulders. Move into kneeling movements for playful exploration, then into standing for strong, grounded postures. Close the practice lying down to observe your breath and continue your day renewed.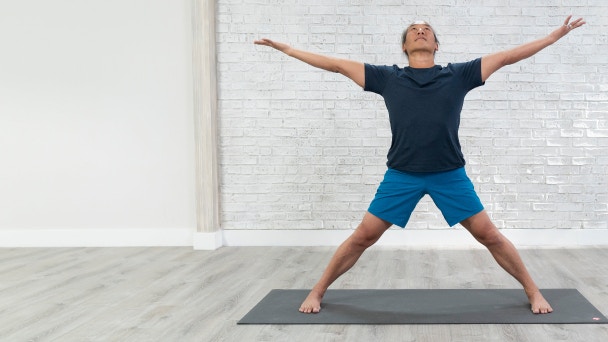 Rodney Yee
A Balanced Start in Service of Peace
Start the day with a well-rounded practice to invite steadiness and balance in the mind and body. Begin with strong standing and balancing poses for grounding and vitality, then move to the ground for seated spinal and hip movements, forward bends, and reclined hamstring stretches.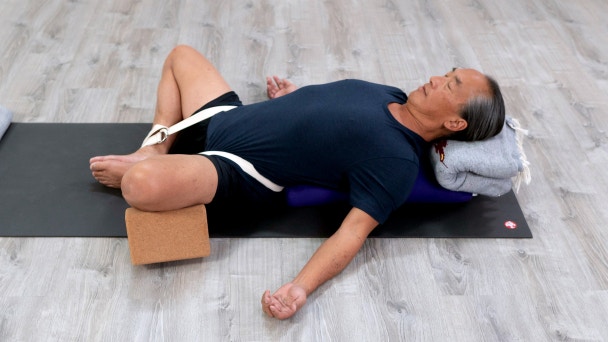 Rodney Yee
Immunity Support
A restful practice of long-held postures to help unwind and release tension in support of the immune system. Options to use lots of props, which can be substituted for blankets, pillows, or whatever you have around the house. Drop in, release, and restore.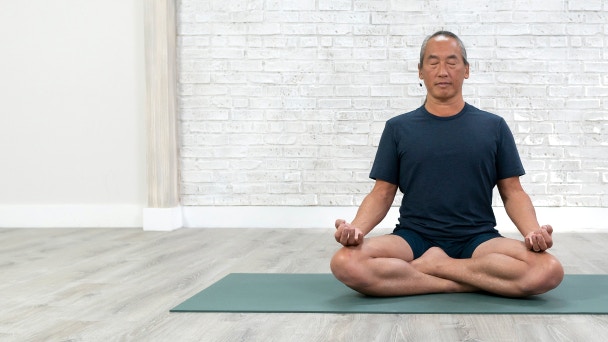 Rodney Yee
Abundance Meditation for the New Year
A guided meditation for abundance, practiced seated and lying down. Empty yourself of the last year to create space and possibility to receive in the upcoming year.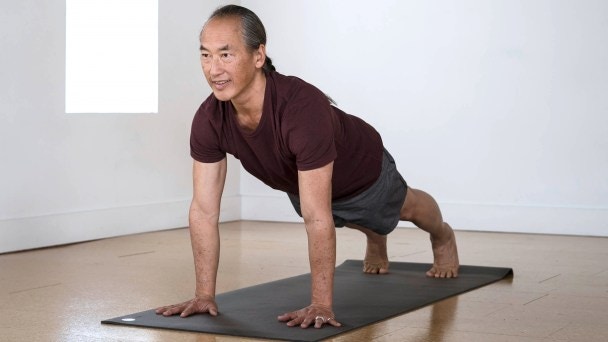 Rodney Yee
Power Up
Feeling sluggish? Try this flowing, heart-pumping mini break inspired by sun salutations and simple calisthenics to re-energize and reset your day.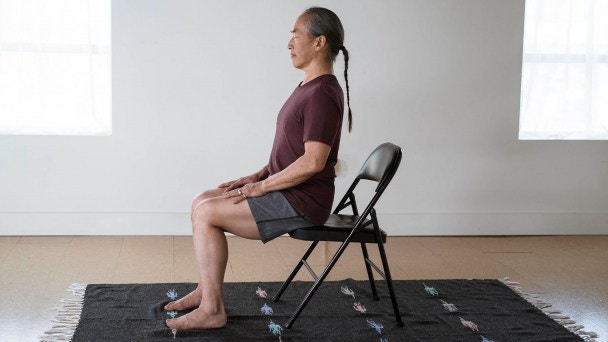 Rodney Yee
Meditation Reset
A mindfulness meditation for stepping into the present moment with clarity. Find a quiet place to sit wherever you might be, and enjoy this guided meditation to reset the moment.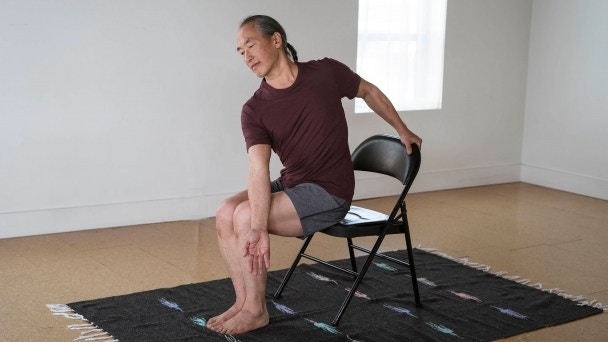 Rodney Yee
Tech Neck
Counterbalance the impact of technology on your posture with a quick reset for "tech neck." Move through gentle shoulder and neck releases on your yoga mat or seated in a chair.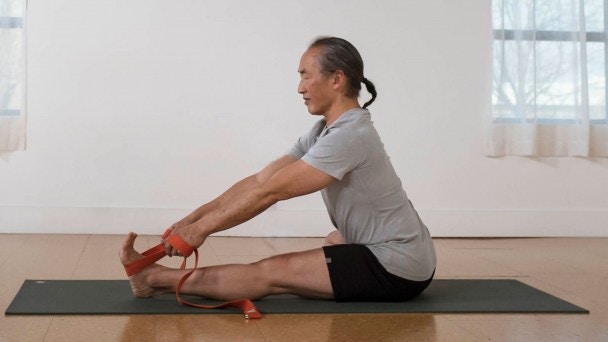 Rodney Yee
Touch Your Toes
Whether your forward fold means yoga asana or tying your shoes, folding forward is an essential movement.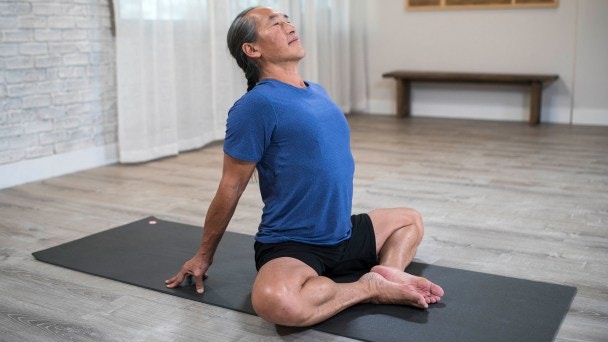 Rodney Yee
Core Strength for Spinal Health
Connect with your core muscles to create a strong foundation for a healthy spine in this short practice.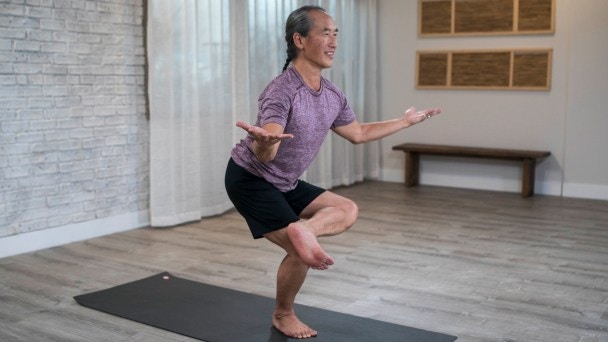 Rodney Yee
Strength for Balance
Practice falling out of shapes in order to feel the fluidity of your inherent movement. Strengthen the muscles that assist balance in yoga postures, walking, and general stability.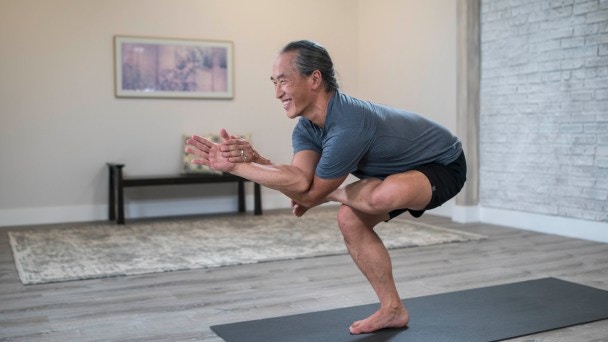 Rodney Yee
Total Body Activation
Flow through a wide range of postures in this powerful sequence to warm and energize your whole body.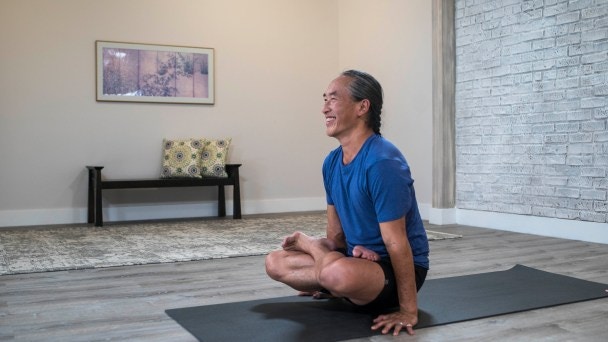 Rodney Yee
On The Go Full Spectrum Flow
Feel your practice as a channel for your body, breath, and mind in this brisk, well-rounded sequence.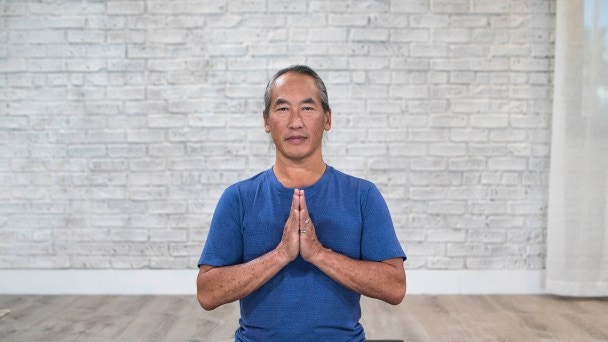 Rodney Yee
Set Your Intention
Clear your mind, heart, and body to create space for newness in the new year. Turn your intention into a dedication, allowing it to be a point of meditation that becomes rooted in your body.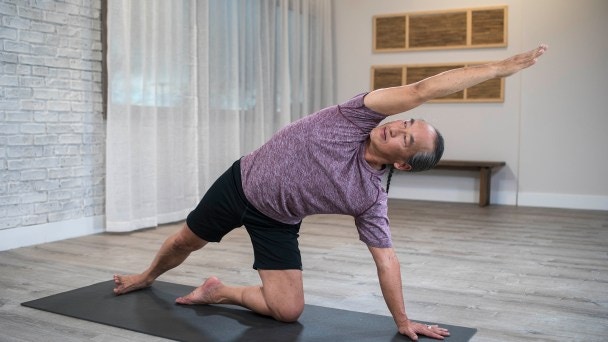 Rodney Yee
A Lot in Little Time
This energetic, full-body practice with minimal instruction is perfect for yogis who have limited time to practice. Begin in downward dog, move through a series of balanced standing postures to stretch and strengthen each plane of the body, and close with seated twists and folds.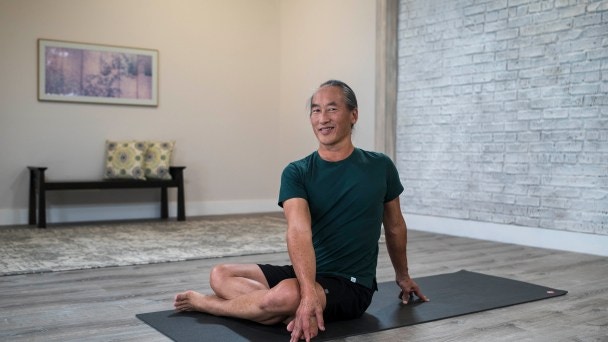 Rodney Yee
Energy Burst
Reboot at any time of day with this quick, rhythmic flow. This practice begins seated with rocking motions to wake up the joints and closes standing.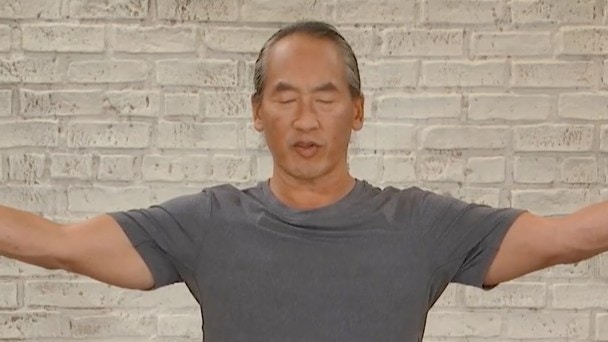 Rodney Yee
Morning Meditation for Gratitude
Enjoy this accessible guided meditation to slow down, observe the present moment, and invite gratitude in body, heart, and mind. A great meditation to start your day or reset any time of the day.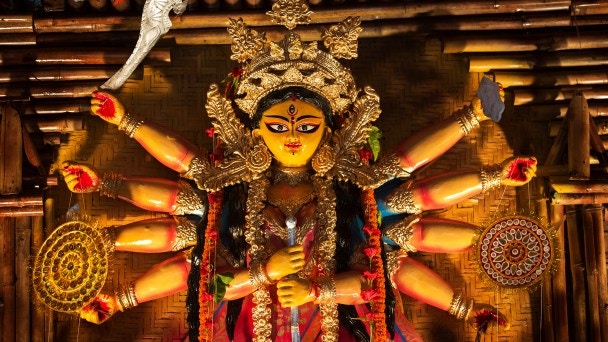 Yoga Conversations with Rodney Yee
Sally Kempton: Goddess Meditation Practice
Join Rodney Yee and Sally Kempton for a meditative journey that will take you into the presence of the goddess Durga, focusing on the power of love incarnate.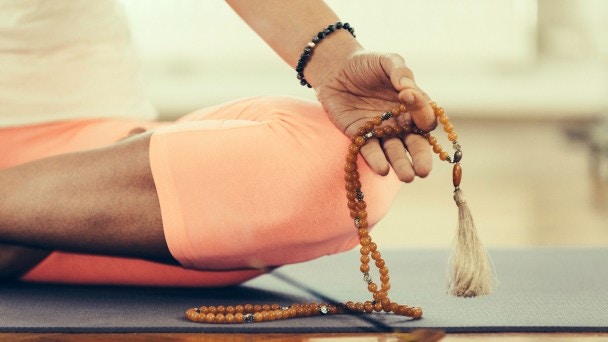 Yoga Conversations with Rodney Yee
Sally Kempton: Deeper States of Meditation
Join Rodney Yee as he continues his conversation with meditation expert and teacher Sally Kempton. Delve deeper into the topics of "Pratyahara", or the withdrawing of one's senses, and hear why learning the basics of meditation is key to a successful practice.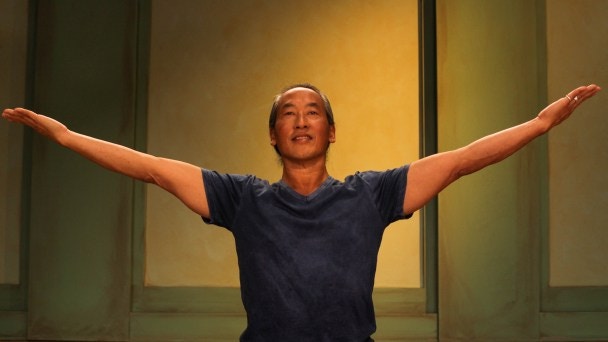 Sunrise Yoga
Relinquishing to the Heart Chakra
Enjoy the incredible sensation of sending all of your body's energy to the center of your heart in this moving practice infused with powerful bija mantras (seed sounds). As your energy moves into your heart chakra, feel the infinite quietness, receiving the world as it is, and observe how it is unfolding moment by moment.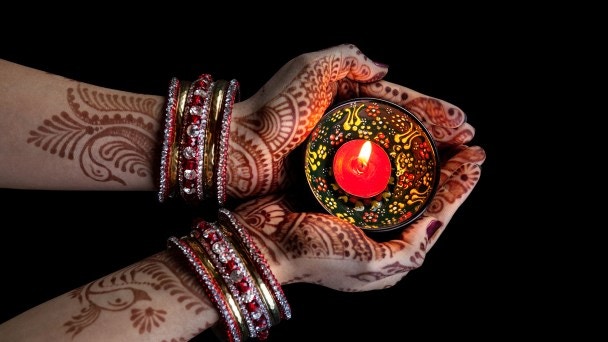 Yoga Conversations with Rodney Yee
Hareesh Wallis: Tantric Philosophy
Join Rodney Yee as he sits down with Christopher Hareesh Wallis, a tantric philosopher, teacher, and Sanskrit master, to discuss what tantra really is and how the practice differs greatly from the common misconceptions.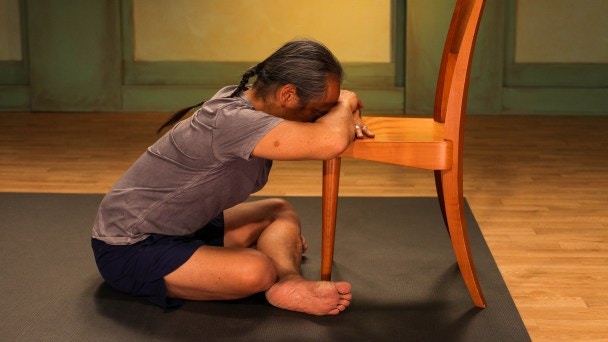 Sunrise Yoga
The Art of Deep Relaxation
Join this restorative practice designed to rejuvenate and balance your mind, body, and soul. Learn to let go and simply bask in the abundance of now.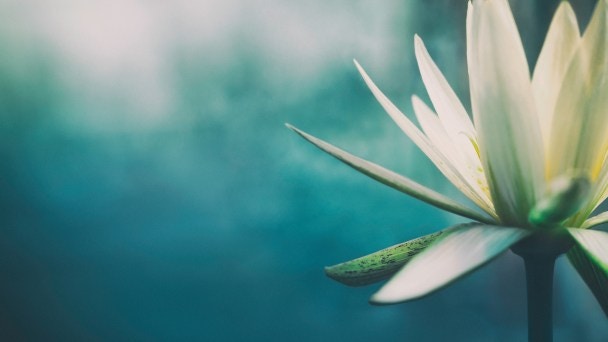 Yoga Conversations with Rodney Yee
Sr. Draupadi: The Self-Realization Fellowship
Join Rodney Yee as he sits down with Sister Draupadi, a member of the Self-Realization Fellowship monastic community, to discuss Kriya Yoga and what "self-realization" really means.
Unlock all classes with your free trial.
✕
Log In
Forgot Password
Link Sent!