QuickFix Total Body Toning
Target your trouble areas with this total body toning workout!
Start Free Trial
Show Details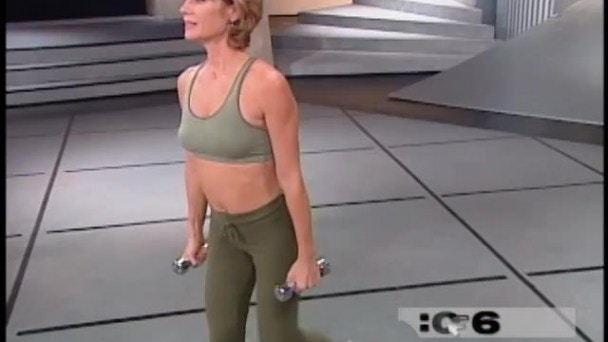 Workout 1 (Preview)
If time is tight (but your muscle tone isn't), Quick Fix Total Body Toning provides a workout that can shape up your physique in minimal time. Composed of three 10-minute sessions, this complete body challenge delivers both cardiovascular conditioning and weight-bearing exercises. Each of the three sets concentrates on specific training regimens, and some portions of this program require three- to five-pound hand weights. The first 10-minute set utilizes weights with a series of bicep curls and tricep kickbacks. The lower body is worked with plies, squats, lunges, and calf raises. The second session focuses on cardio kickboxing. Most of the choreography is taught at half tempo here, and the extra time allows for beginners to perform kicks and punches in stellar form. The third set uses isometric and resistance movements to increase strength and muscle tone. Power squats and reverse lunges are sure to make the quadriceps burn while pushups train the pectoral muscles. Quick Fix provides a basic workout for the time-savvy exerciser, and participants of all fitness levels will find a quick, easy-to-follow program
Enter your email to start your free trial.
✕
Log In
Forgot Password
Link Sent!