A Woman's Guide To Vibrant Health
Women have used herbs throughout history to naturally remedy the common difficulties experienced through all of life's cycles. Health challenges that are unique to women include those relating to weight management, sexual and reproductive health – including fertility, menopause, and PMS – and psychological concerns, like stress and anxiety. All of these issues are complex, and many of the problems that arise are often rooted in hormone imbalance.
Start Free Trial
Show Details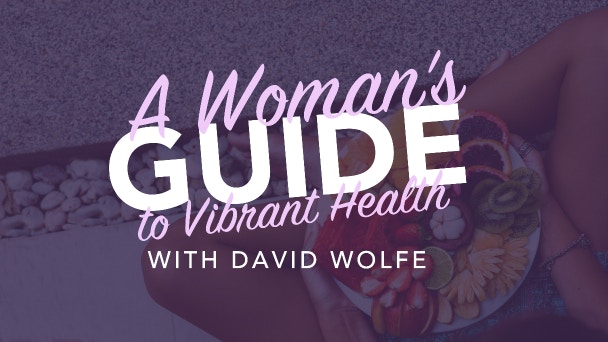 A Woman's Guide To Vibrant Health (Preview)
In this series, world famous health lecturer David Wolfe discusses natural superfood and superherb recipes created specifically for women's health and balance. Watch and learn as David demonstrates each recipe step-by-step so that you can enjoy the benefits of adding these tonics and treats into your daily life. This Edition of Women's Vibrant Health Recipes Includes:
By adding these amazing recipes into your personal health program, you may realize an amazing difference in your immune system, energy levels, overall balance, and sense of well-being. These simple recipes are easy to learn and will take your health to the next level. Try them at home and HAVE THE BEST DAY EVER!
David "Avocado" Wolfe has been an advocate for raw food for 22 years. He is a bestselling author and world authority on raw foods, superfoods, superherbs, and spring water. Because of his experience in the nutrition and wellness arenas, he is sought out by Hollywood celebrities, athletes, doctors and business people across the globe. David is the founder and leading contributor to the internet's only peak performance and nutrition online magazine, www.TheBestDayEver.com. He is considered by his peers to be one of the leading authorities on nutrition.
A Woman's Guide To Vibrant Health -
Season 1

Episodes
Enter your email to start your free trial.
✕
Log In
Forgot Password
Link Sent!