With his main passions in life found in music and yoga, Rick Coe began his studies at Prana Yoga College and continues through continuous study and practice.
In each class, Coe concentrates on the physical practice of Hatha yoga, while loosening the grip of ego in order for students to become more awake and compassionate. He encourages present-centeredness through graceful vinyasas (flows) as well as longer holdings of postures.
For Rick Coe, both music and yoga are extremely powerful practices of transformation and connection to our higher selves. He brings his passion for both arts into each class, whether in the form of meditation or through instrumentation with a banjo or guitar, in order to refresh your perspective. His use of pranayama (breathing) techniques leave students feeling energized and rebalanced and able to enjoy the health and vitality yoga creates.
With an M.A. in Transpersonal Counseling Psychology from Neropa University, Rick Coe practiced formally as a counselor and yoga therapist in Vancouver and Denver for several years. Now, he is dedicated to focusing his career on becoming a solo musician and furthering his skills as a yoga teacher and therapist.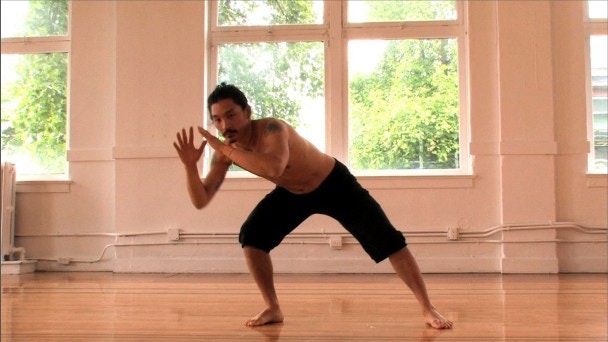 Rick Coe
Introduction to Capoeira
This class with Rick Coe is an introduction to the basics of the Brazilian martial art of Capoeira. Namely, characteristic back and forth movement known as ginga and some basic defensive movements.
Unlock all classes with your free trial.
✕
Log In
Forgot Password
Link Sent!